For nearly 15 years, VERLINDE has been supplying lifting equipment to CONSTRUCTION VINICOLE MURISALTIENNE to equip Burgundy wine houses.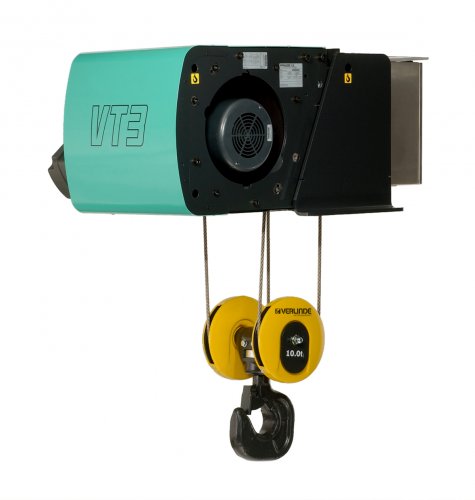 The company Construction Vinicole Murisaltienne, located in Meursault in the heart of the prestigious Burgundy vineyards, specializes in industrial trade for winegrowers. It supplies its customers with farm machinery and equipment, such as bottling tables or lifting units for bottle handling. The technicians also provide maintenance for this equipment.
Construction Vinicole Murisaltienne is very attentive to the quality of the equipment it uses for itself and its customers. For more than 15 years, it has relied on the reputation of VERLINDE EUROBLOC VT type electric cable hoists for the construction of freight lifts for its customers. They are installed in wine houses for the handling of bottles, pallets, cartons and big bags.
Over the last three years, a total of thirty hoists have been delivered or are in the process of being ordered.
EUROBLOC VT electric wire rope fixed hoist mounted for a 3.2t load
The EUROBLOC VT electric wire rope hoist embodies Verlinde's know-how, with its design, which alone is protected by 13 patents. The fixed models are perfectly integrated into the custom-made lifts installed by Construction Vinicole Murisaltienne. They do not have a carriage and are used for applications where horizontal movement is not required.
The hoists are equipped with an IP55 lifting motor having 2 speeds, a low speed of 1.1m/min and a high speed of 6.3m/min, for a load lifting height of 6m to 9.5m. The loads are thus lifted in total safety and with precision. These parameters are essential for the handling of prestigious wines.
The hoists are easy to maintain: the disc brake does not require any maintenance and the motor is designed to facilitate interventions.
The hoists are equipped with an hour meter, which makes it possible to plan maintenance operations according to the duration of use. The "springless" design of the cable guides not only makes them easier to replace during maintenance, but also makes them suitable for use in difficult environments, such as damp cellars.
VERLINDE SAS
2, Bd de l'Industrie
BP59
28501 Vernouillet Cedex
BEAUSSART Jean-Yves
Phone : +33 2 37 38 96 26 /06 07 53 10 43
jean-yves.beaussart@verlinde.com