SG Transmission unveils new German website to expand reach in European market.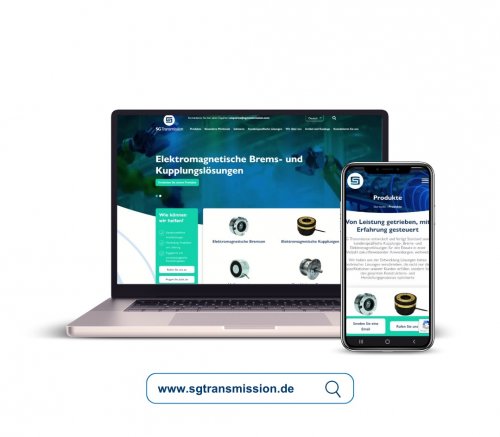 SG Transmission, a global leader in power transmission solutions, has announced the launch of its new German website, aimed at serving the growing European market. The new platform, www.sgtransmission.de, is designed to cater specifically to the needs of German customers and neighbouring countries, showcasing SG Transmission's commitment to delivering exceptional solutions and building strong relationships in Europe.
The website offers a user-friendly experience, providing visitors with easy navigation and localised content. Customers can explore the extensive range of power transmission solutions, access detailed product information, technical specifications and browse relevant case studies tailored to their industries.
Dedicated pages on the website, such as 'sectors' and 'features', delve into the key characteristics of SG Transmission's brake and clutch products and describe the variety of industrial applications in automation, medical, intralogistics and robotics industries.
To assist customers in finding the ideal solution for their application, the 'product finder' tool allows users to determine which type of brake or clutch would be most suitable for their project.
The decision to create a dedicated German website stems from SG Transmission's significant growth into a leading specialist in electromagnetic clutches and brakes. Recognising Germany's robust industrial sector and its reputation for high-quality engineering and manufacturing, SG Transmission aims to further tap into this thriving market by establishing a strong local presence.
Andy Collinson, CEO, SG Transmission, said: "We are delighted to have launched our new German website to provide our international customers with bespoke product knowledge and easier navigation. We hope this will solidify our position as a trusted partner in the European market and show SG Transmission's experience and engineering expertise."
SG Transmission invites you to explore its new website and find out more about its electromagnetic solutions. Visit www.sgtransmission.de to unlock the full potential of power transmission for your business.
SG Transmission specialises in the design and manufacture of innovative electromagnetic solutions. SG Transmission's manufacturing facilities were purpose built to meet the existing and future capacity demands for small or large volume orders. The company continues to invest in the latest CNC machinery to improve efficiency and has a clear focus on continuous improvement in lean and efficient cellular manufacturing. From automation and medical to intralogistics and robotics, SG Transmission offers cutting-edge electromagnetic solutions designed to meet and exceed customer expectations.
SG Transmission is a product brand of Stephenson Gobin, part of the British Engines Group of companies based in the north east of England. British Engines was founded in Newcastle upon Tyne in 1922, building on the region's rich engineering heritage and local skills base.
Within the group, there are eight businesses operating in the north east of England which are supported by a network of offices in 16 other countries. Each of the businesses design and manufacture technology leading products for a wide range of industries including the oil and gas, chemical, marine, construction and agriculture sectors.
Stephenson Gobin
20 Longfield Rd,
South Church Business Park,
Bishop Auckland,
Co. Durham
DL14 6XB
Rutherford Jennifer
Phone : +44 (0) 1388 770360
Fax : –
jenniferrutherford@stephensongobin.com