Schmalz, one of the field leaders in vacuum automation and ergonomic handling solutions, and CoreTigo, the worldwide provider of industrial wireless automation solutions announced the expansion of their collaboration – unbinding robotic vacuum pumps for a variety of industrial applications. This partnership marks a significant leap forward in the industrial automation landscape and brings a new era of enhanced capabilities and seamless wireless real-time control.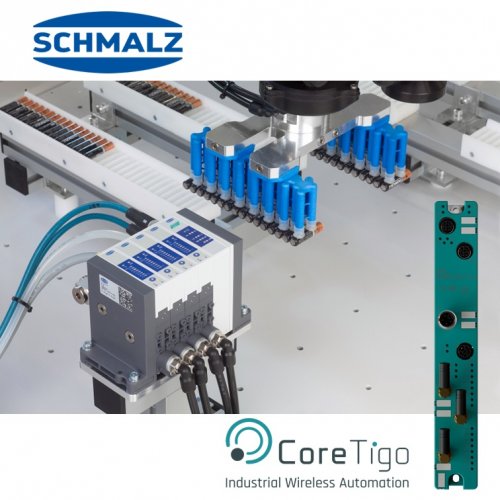 The integration of CoreTigo's advanced IO-Link Wireless technology into Schmalz's products showcases the company's commitment to continuous innovation and dedication to customer satisfaction. By eliminating the need for communication cables along robotic arms to the pump, this collaboration brings various benefits, such as ease of use, reduced complexity, improved flexibility, and minimized dress packs, to name a few.
Schmalz is releasing to the industrial market two new wireless products in the near future:
1. SCTSi: A Compact terminal – with blocked compact ejectors for simultaneous, independent handling of different parts with only one vacuum system.
The Compact Terminal SCTSi was demonstrated recently at Automatica as can be seen in this video where the IO-Link Wireless enabled Schmalz Valve island (manifold) is wirelessly controlling in real-time the provided vacuum for the several independent vacuum circuits on the delta robot.
2. ECBPMi – A state-of-the-art Vacuum Generator End-of-Arm Electric vacuum generator in miniature design for dense workpieces.
These products have diagnostics functions for energy and process control. Condition monitoring functionalities enable detailed condition analysis for early fault detection. In addition, systems can be maintained in a predictive manner. The data for this is provided via IO-Link.
The integration of CoreTigo's IO-Link Wireless solutions empowers Schmalz's products with real-time and seamless communication as well as unparalleled control. With the elimination of communication cables, these new offerings significantly reduce the complexity of the industrial setup, providing greater flexibility and ensuring optimal performance in various applications.
"We are delighted to work with CoreTigo to enhance our vacuum automation and handling solutions, "said Michael Wöhrle, Manager of Product Management, Vacuum-Automation at Schmalz. "By leveraging CoreTigo's cutting-edge wireless technology, we can offer our customers a new level of efficiency, ease of use, and operational excellence. This partnership underlines our dedication to pushing the boundaries of innovation and meeting the evolving needs of our customers."
"We are thrilled to collaborate with Schmalz in revolutionizing industrial vacuum automation", Said Eran Zigman, CoreTigo CEO. "The fact that IO-Link Wireless was designed specifically for factory automation enables it to be used for real-time control in the most reliable cable-grade manner. This opens up an array of applications that were not possible before for packaging, automotive, logistics, and many more."
To witness firsthand the revolutionary capabilities of these new products, Schmalz invites attendees to visit their showcase at upcoming industry events:
– Motek 2023: October 10-13, 2023, Messe Stuttgart, Hall 7, Booth 7101
– The Assembly Show 2023: October 24-26, 2023, Rosemont, IL
– Blechexpo 2023: November 7-10, 2023, Messe Stuttgart, Hall 1, Booth 1110
For more information about vacuum technologies for Robotics click here.
For more information about IO-Link Wireless for Robotics click here.

About IO-Link Wireless 
IO-Link Wireless is a deterministic, low latency (5 msec) and low synchronization rates (10's of microseconds), highly reliable and scalable universal wireless communication protocol. Based on the IO-Link IEC 61131-9 standard, it is designed specifically for factory automation, coexisting with other networks – both wired and wireless.

About Schmalz
Schmalz is one of the market leaders in vacuum automation and ergonomic handling systems. Schmalz products are used all over the world, for example in applications in the logistics industry, the automotive industry, the electronics sector, or in furniture production. The wide range of products in the Vacuum Automation unit includes individual components such as suction cups and vacuum generators, as well as complete gripping systems and clamping solutions for holding workpieces, for example in CNC machining centers. The Handling Systems unit offers innovative handling solutions with vacuum lifters and crane systems for industrial and handicraft applications. With the Energy Storage unit, Schmalz has created a new pillar in the field of stationary energy storage.
With comprehensive consulting, a focus on innovation, and first-class quality, Schmalz offers its customers long-lasting benefits. Schmalz's intelligent solutions make production and logistics processes more flexible and efficient, while also preparing them for the increasing trend toward digitalization.
With its own locations and its sales partners, Schmalz is represented in around 70 countries and in all important markets. The family-owned company has around 1,800 employees at its headquarters in Glatten (in the Black Forest region of Germany) and its 29 subsidiaries worldwide.
About CoreTigo
CoreTigo enables faster and more flexible manufacturing by providing high-performance machine digitalization, wireless connectivity and edge solutions for machine builders, system integrators and industrial equipment manufacturers. CoreTigo's products enable the design and retrofit of machines and production lines that were not possible before. These solutions increase flexibility, adaptivity and modularity, resulting in cost effectiveness, increased productivity and downtime reduction. Embraced by industrial leaders, CoreTigo's solutions are based on the IO-Link Wireless global standard, which is fit for harsh factory environments and motion control applications, providing the most reliable wireless connectivity for millions of sensors, actuators and industrial devices worldwide.
Your Press Files List : Back