Amsterdam Schiphol Airport has installed R&S QPS201 security scanners. A shortage of personnel in the after COVID-19 period and a fully resumed air traffic turned out to be a major obstacle to its rapid handling at the security lanes. After air passengers have recently been confronted with long waiting queues for security checks, the modernized security lanes at Schiphol now meet the surging post-pandemic travel demands.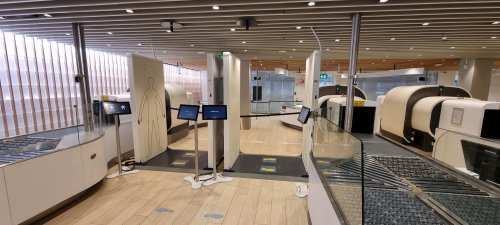 Caption: 21 new security scanners proceed security checks at the Schengen security filter at Schiphol Airport in Amsterdam
Since 2019, Schiphol operates more than 25 R&S QPS201 security scanners. In February 2023, it was decided to also modernize the Schengen departure filter, where most traffic is expected especially during peak seasons like school holidays. The R&S QPS201 offers industry-leading speed and comfort for person screening without the need to raise arms and ultra-low alarm rates that reduce the need for manual pat-downs. Moreover, the open construction of the scanner makes it much more pleasant for passengers who feel place constrained in classic cabin-type scanners.
The innovation is a win-win for everyone: Schiphol is now able to minimize manual pat-down searches consuming less time and passengers experience higher convenience and speed at security checkpoints. Moreover, security officers are excited: "The new scanners work much easier, and we have to inspect fewer passengers. It gives them much more convenience and makes it safer, really a great progress."
With a firm deadline to be met before the start of the Dutch May holidays, all parties had to work together very closely. Project manager Perry van Kan: "It takes a lot of work and planning to change a complex environment such as the Schengen security filter. The passenger service shall always continue, and changes may not invoke any limitation. Normally, such a process takes a lot of time, but we didn't have that. It was great that the security scanners were delivered in such a short time and the cooperation with Rohde & Schwarz has been experienced to be very flexible. It proves that, if necessary, Schiphol can also make such a project a great success in a short timeframe."
One important criterion for Schiphol to proceed with the replacement was the timely delivery of the 21 security scanners. Despite the global shortage of raw materials in the component industry, Rohde & Schwarz proved to be a reliable partner also in this aspect. As the R&S QPS201 is developed and manufactured in Germany and thanks to a solid supply chain management, Rohde & Schwarz was able to guarantee reliable delivery times even under such challenging conditions.
Press contacts:
Europe (headquarters): Patrizia Muehlbauer (phone: +49 89 4129 0; email:
press@rohde-schwarz.com
)
North America: Dominique Loberg (phone: +1 503 523-7951; email:
Dominique.Loberg@rsa.rohde-schwarz.com
)
Asia Pacific: Sze Ming Ng (phone: +603 5569 0011; email:
press.apac@rohde-schwarz.com
)
R&S® is a registered trademark of Rohde & Schwarz GmbH & Co. KG.
All press releases, including photos for downloading, are available on the internet at www.press.rohde-schwarz.com.
About Amsterdam Schiphol Airport
Royal Schiphol Group is a company with an important social mission, because our airports create value for society and the economy. With Schiphol Airport, we want to be the most sustainable and high-quality airport for travelers, airlines and logistics service providers.
Our main activity in the Netherlands is the operation of Amsterdam Airport Schiphol. We are also (co-) owners of several regional airports. We also have a share in, or work closely with, various international airports. We take the lead and invest in mutual knowledge exchange. To achieve this, we work closely with other parties in the sector.
Rohde & Schwarz
The Rohde & Schwarz technology group is among the trailblazers when it comes to paving the way for a safer and connected world with its leading solutions in test & measurement, technology systems, and networks & cybersecurity. Founded more than 85 years ago, the group is a reliable partner for industry and government customers around the globe. On June 30, 2021, Rohde & Schwarz had around 13,000 employees worldwide. The independent group achieved a net revenue of EUR 2.34 billion in the 2020/2021 fiscal year (July to June). The company is headquartered in Munich, Germany.
R&S® is a registered trademark of Rohde & Schwarz GmbH & Co. KG.
Rohde & Schwarz GmbH & Co. KG
Mühldorfstrasse 15
DE-81671 München
Mokry Christian
Phone : +49/89 4129-13052
Fax : +49 89 4129 63052
press@rohde-schwarz.com