Rohde & Schwarz and MediaTek have partnered to successfully verify MediaTek's 5G RedCap (reduced capability) test platform, as defined in 3GPP Release 17. RedCap will enable a new range of 5G standalone devices such as industrial sensors for 5G smart factories, logistics, edge-AI and always connected wearables. Rohde & Schwarz has tailored the R&S CMX500 OBT wireless communications tester to support RedCap and other Release 17 features.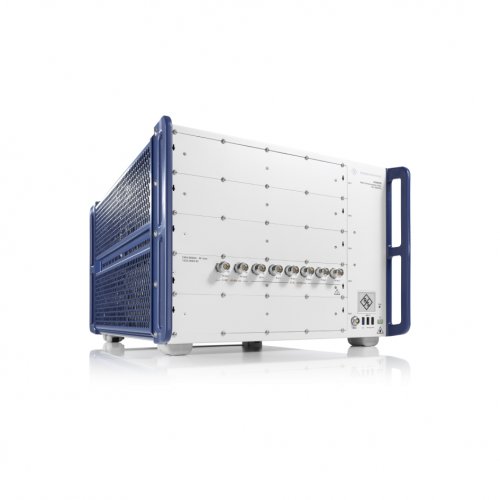 Caption: The R&S CMX500 OBT lite supports 5G RedCap and other Release 17 features.
Rohde & Schwarz and MediaTek announced today that MediaTek has successfully verified its 5G RedCap test platform with the R&S CMX500 signaling tester, enabling MediaTek to confidently test, measure and verify its final products.
5G RedCap for mid-tier use cases
5G RedCap introduces true mid-tier, enhanced machine-type communication (eMTC) to the 5G ecosystem and will help launch a new wave of devices that bridge the capability and complexity gap between earlier low-speed narrowband internet of things (NB-IoT) standards and today's 5G with an optimized design for mid-tier use cases, such as sensors in industrial automation, smart cameras and wearables. 5G RedCap modems are less complex, use less spectrum bandwidth, consume much less power and work only in standalone (SA) mode, in contrast to 5G modems designed for eMBB use-cases.
R&S CMX500 supports 5G RedCap and other 3GPP Release 17 features
As a market leader in eMTC and NB-IoT testing, Rohde & Schwarz has optimized the R&S CMX500 OBT for IoT testing. R&S CMX500 OBT enhancements let MediaTek verify the various RedCap aspects defined in 3GPP 5G Rel.17 for network access restrictions, bandwidth parts (BWP), bandwidth part switching, power saving and other RedCap-specific protocol signaling procedures.
The R&S CMX500 wireless communication tester has a one-box tester configuration for best-in-class, future-proof testing of 5G NR. The R&S CMX500 supports all relevant 5G frequencies up to 8 GHz via the intuitive and flexible web-based user interface R&S CMsquares. The signaling test solution is suitable for all 5G mobile devices and chipsets. The R&S CMX500 supports all possible 5G NR network deployments and frequency ranges; including the FR1, FR2 and LTE bands in a single instrument. The R&S CMX500 OBT lite is the most compact hardware configuration with the best pricing, optimized for all RedCap testing requirements.
One test solution for all 5G device product lifecycle stages
The R&S CMX500 speeds up the time to market while supporting a complete range of early R&D design stages, from RF parametric tests, end-to-end application testing, signaling protocol tests, type approval conformance tests up to sample production tests. The one-platform strategy for all 5G NR test equipment creates a unified environment for signaling and non-signaling testing through all 5G device production stages.
Christoph Pointner, Senior Vice President of Mobile Radio Testers at Rohde & Schwarz, says: "I am really honored that our R&S CMX500 will help the industry advance 5G and address new device types that support 5G RedCap in early R&D stages. We are committed to our close and long-standing partnership with MediaTek, and we will continue to innovate further to support all future RedCap and 5G enhancements in upcoming 3GPP releases after 17."
Dr. Ho-Chi Hwang, General Manager of Wireless Communication System and Partnerships at MediaTek, says: "Continuing our close collaboration with Rohde & Schwarz has enabled MediaTek to verify an important milestone towards the next era of 5G. MediaTek will bring the new capabilities of 5G RedCap into our next-gen product lines, and as one of the world's largest 5G modem suppliers, this milestone gives our customers confidence in their strategic planning and innovation development."
For more information about 5G RedCap test solutions from Rohde & Schwarz, visit: https://www.rohde-schwarz.com/redcap-testing
Rohde & Schwarz
The Rohde & Schwarz technology group is among the trailblazers when it comes to paving the way for a safer and connected world with its leading solutions in test & measurement, technology systems, and networks & cybersecurity. Founded nearly 90 years ago, the group is a reliable partner for industry and government customers around the globe. On June 30, 2022, Rohde & Schwarz had around 13,000 employees worldwide. The independent group achieved a net revenue of EUR 2.53 billion in the 2021/2022 fiscal year (July to June). The company is headquartered in Munich, Germany.
R&S® is a registered trademark of Rohde & Schwarz GmbH & Co. KG.
Rohde & Schwarz GmbH & Co. KG
Mühldorfstrasse 15
DE-81671 München
Mokry Christian
Phone : +49/89 4129-13052
Fax : +49 89 4129 63052
press@rohde-schwarz.com