High Wycombe, 6th November 2023 – Quickparts, one of the world's leading providers of additive and traditional manufacturing solutions for part production, is thrilled to announce the launch of flexible lead time options for its popular 3D Printing instant quote service.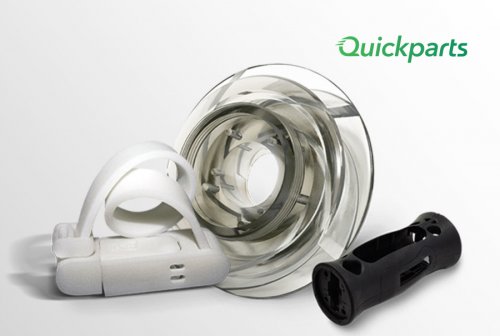 The third instalment in a line of improvements and upgrades to its customer portal, QuickQuote®, this latest enhancement empowers customers to choose the lead time that best aligns with their project requirements, offering greater flexibility in their part production process.
Quickparts has always been committed to delivering the highest quality 3D printed parts with unmatched speed. The company offers an instant quoting for SLA, SLS and DLP parts, with manual quoting through the portal for other additive manufacturing processes including DMP (metal), MJF and FDM. The introduction of a choice of manufacturing lead time options takes this commitment to the next level by giving customers more control over their project timelines and budgets.
Key Features of the Flexible Lead Time Options
European and UK customers can now select from either a Standard or Economy manufacturing times, which are reflected in the pricing offered through the instant quote process, allowing them to balance project urgency and budget constraints. Standard lead time is 3 – 5 days; Economy is 5 – 7 days. Additional, specialist finishing may increase lead times. Regardless of the manufacturing lead time selected, Quickparts maintains its unwavering promise to delivering high-quality, precision 3D printed parts that meet or exceed customer expectations.
"We are excited to introduce dynamic lead time options for our 3D Printing Instant Quote service. This enhancement reflects our dedication to meeting the evolving needs of our customers and offering them greater flexibility in their 3D printing projects," said Leonie Hilsdon, Marketing Manager for Europe at Quickparts.
Quickparts' instant quote service is available through its customer portal, QuickQuote®. The service is available for SLS, SLA and DLP 3D printed parts, as well as CNC machined parts in steel, aluminium or acetal. With the addition of dynamic lead time options for 3D printing processes, customers can further tailor their projects to suit their specific timelines and budgets while still enjoying the convenience of the instant quoting process.
To experience the benefits of Quickparts' dynamic lead time options for 3D printed parts, please visit Prototyping Company – Parts Manufacturing Services | Quickparts.
www.quickparts.com

Quickparts offers a complete range of on-demand manufacturing services, from 3D printing to traditional manufacturing processes. Quickparts empowers its customers with the tools to reduce production times, speed up design iterations, and shorten product development lifecycles with high-quality 3D printed and machined parts from one of our seven global design and production centers. Quickparts' U.S. facilities are ISO 9001:2015 certified and ITAR registered, with expert teams that have been producing parts for more than 20 years.
Quickparts
620 South Industrial Way
Seattle WA-98108
USA
Belenky Christina
Phone : +1 931 766 7290
Christina.Belenky@quickparts.com
Wycombe Sands, Lane End Road, High Wycombe, HP12 4HH, GBE
Hilsdon Leonie
Phone : +44 (0) 1494 479 690
leonie.hilsdon@quickparts.com