Version 5.30 of dataFEED OPC Suite from Softing Industrial offers two new features: an OPC UA tunnel to increase security for OPC Classic communication plus support for InfluxDB databases.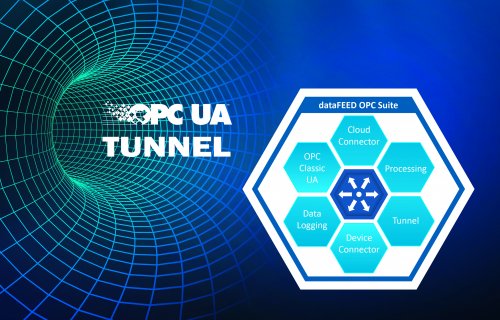 OPC UA tunnel increases security for OPC Classic communication
The dataFEED OPC UA Tunnel is a new component of Softing Industrial's dataFEED OPC Suite. It enables easy and secure access to OPC Classic servers across network boundaries and firewalls. A DCOM configuration is no longer required. Configuration of the two tunnel ends is quick and easy using Export/Import. The security mechanisms of the OPC UA standard, which include authentication of users by means of certificates as well as signing and encryption of data, ensure maximum protection. The suite currently supports up to 50 OPC UA tunnel connections.

Process data storage in Influx DB databases
With version 5.30 dataFEED OPC Suite offers the possibility to store process data in an InfluxDB for subsequent processing and analysis. InfluxDB is one of the most widely used NoSQL databases. It ensures extensive scalability, high availability as well as fast writing and reading.

All-in-one data integration solution
dataFEED OPC Suite Extended is a complete package for OPC communication and cloud connectivity, providing access to the controllers of leading manufacturers and to IoT devices. The suite acts as a gateway between the two OPC standards, allowing the integration of existing OPC Classic components and applications into modern Industry 4.0 OPC UA solutions.
About Softing Industrial
Softing connects disparate automation components to feed data from the shop floor to the cloud for control and analytics. The company's products enable the monitoring and diagnosis of communication networks and thus ensure a reliable data flow. In this way, they create the basis for the optimization of production processes. For more information: https://industrial.softing.com
Softing Industrial Automation GmbH
JAYAKRISHNA Gautam
Phone : +91-9886137102
KJG@softing.com
Softing Industrial Automation GmbH
Richard-Reitzner-Allee 6
D-85540 Haar
WIDDER Stephanie
Phone : +49 (89) 456 56-365
Fax : +49 (89) 456 56-399
stephanie.widder@softing.com