At the prestigious Bosch Global Supplier Awards 2023, NSK was selected as one of just 46 top suppliers from approximately 35,000 companies that provide parts to Robert Bosch GmbH (Bosch) globally. NSK gained recognition in the category of Raw Materials and Components for superior quality and excellent performance as a supplier of the Bosch Group, a leading global supplier of technology and services.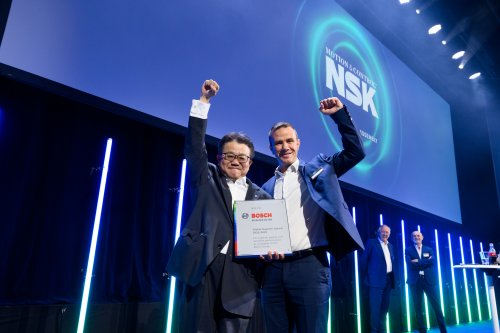 Every two years, Bosch honours the pick of its suppliers from around the world with the Bosch Global Supplier Award. This year, NSK's esteemed award in the Raw Materials and Components category underscores the company's exceptional performance as a global supplier of innovative motion and control solutions, and its commitment to excellence in mobility and across wider industry.
The NSK product portfolio contains for example ball screws for electric-hydraulic braking systems, which are essential for advanced automotive safety features such as automatic emergency brake systems. These systems, now mandatory on new vehicles in many countries, help prevent accidents by scanning the road ahead of the vehicle and engaging the brakes to avoid potential collisions.
Dr Arne Flemming, Head of Supply Chain Management at Bosch, highlighted the award's significance: "With the Bosch Global Supplier Awards, we honour our best suppliers. The recipients rank at the top of our global supplier base of some 35,000 companies. Our award winners impressed us with their outstanding performance in the manufacture and supply of raw materials, products and services. We see them as leading the way, especially in terms of quality, cost and sustainability."
For Bosch, suppliers are also partners in development and innovation that help the company stay competitive and meet sustainability targets. Partners willing to provide close collaboration can take advantage of early-stage involvement in Bosch strategies and development projects, gaining useful insights into future requirements. These partnerships also strengthen global supply chain resilience, while simultaneously forming an important basis for a functioning economy. In 2022, Bosch Group's purchasing volume totalled around €50 billion.
"A functioning economy needs robust supply chains," said Flemming. "We and our suppliers must therefore deliver top performance on a daily basis, from the innovation phase to production and aftermarket services. Our awardees play a special part in the efforts of Bosch to achieve this outcome."
Press pictures
1) NSK celebrates its achievement in the Raw Materials and Components category at the Bosch Global Supplier Awards 2023. Photo: Bosch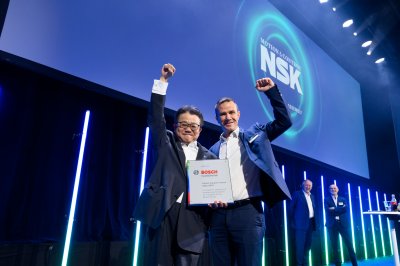 2) Superior quality and excellent performance were among the reasons cited for NSK's success at the Bosch Global Supplier Awards 2023. Photo: Bosch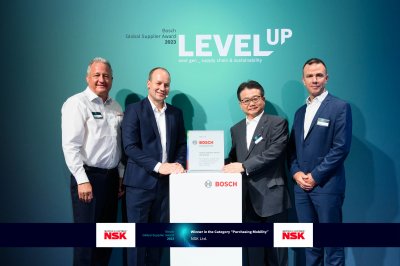 3) NSK ball-screw unit for electric-hydraulic brake systems. Photo: NSK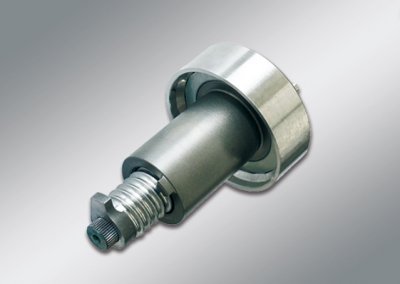 About NSK Europe
NSK Europe Ltd. is the European organisation of the Tokyo-based bearing manufacturer NSK, which was founded in Japan in 1916 and today employs nearly 29,882 people in its worldwide operations. The products and solutions provided by the industrial and automotive supplier can be found wherever things move. In addition to nearly all types of rolling bearings, the company's portfolio includes housed bearings, linear technology, wheel bearing units, transmission and engine bearings and steering systems. The company is oriented to perfection in all of its business activities. Its aim is quality leadership in its industry, which it strives for through a continuous process of improvement, excellent product development, optimised production processes and customer-oriented service processes. In fiscal year 2022, the more than 4,030 employees of NSK Europe Ltd. generated sales of over € 893 million.
www.nskeurope.com
NSK Europe Ltd
Northern Road, NEWARK, Notts NG24 2JF
United Kingdom
Kortens Charlie
Phone : +44 07407326874
kortens-c@nsk.com
NSK Europe Ltd
Northern Road, NEWARK, Notts NG24 2JF
United Kingdom
Kortens Charlie
Phone : +44 07407326874
kortens-c@nsk.com