Crane tasks require special drives: Loads must be safely lifted, precisely positioned and gently set down, also with simultaneous movements of cranes and trolleys. NORD DRIVESYSTEMS has the right drive solutions for this.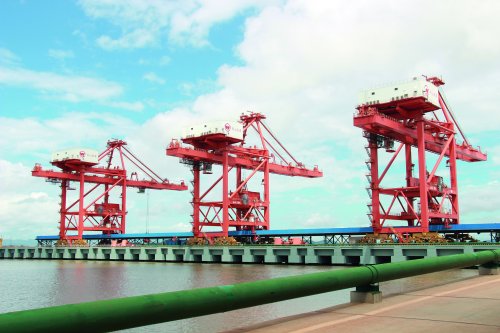 NORD-cranes.jpg: NORD DRIVESYSTEMS delivers suitable drive systems for all types of cranes – also for harbour cranes. Image: NORD DRIVESYSTEMS

For all types of cranes and load ranges – whether building, bridge or floating cranes, NORD offers perfectly matched drive components from a single source: gear units, industrial gear units, electric motors and drive electronics. The flexible NORD modular system allows for the configuration of the optimum drive solution for various requirements of crane applications. All of them allow for energy efficiency and precise positioning, and are easy to service and maintain.
MAXXDRIVE® industrial gear units
With output torques of up to 282,000 Nm, the MAXXDRIVE® industrial gear units are suitable for large lifting hoists with heavy loads. "Together with frequency inverters and motors, our modular MAXXDRIVE® industrial gear units form a powerful drive system that combines power and intelligence", emphasises Jörg Niermann, Head of Marketing at NORD. The MAXXDRIVE® industrial gear units offer various individual options and industry-specific special solutions. For smaller lifting gears, the comprehensive NORD geared motor portfolio comprising parallel shaft, bevel or helical geared motors provides the perfect drive solution.
Particularly for lifting gear applications in cranes, NORD also developed the MAXXDRIVE® XD series. Thanks to the extended centre distance of the gear unit, the economic and tailor-made dimensioning of lift drives for crane applications is further improved. The installation space is used optimally, making it possible to reduce the weight of the drive by up to 60 percent.
Particularly robust UNICASE housing
All NORD gear units are constructed to the particularly robust UNICASE design, which pays off with heavy loads and harsh environmental conditions. They are machined in a single step. This is why all bearing seats are manufactured to a high standard of precision and exactly aligned to each other. This way, the susceptibility to errors decreases and the gear unit's service life increases. By integrating the bearing points in a single housing block, there are no sealing surfaces that are subject to torque and radial loads.

NORD-industrial-gear-units-modular-system.jpg: The modular system for MAXXDRIVE® industrial gear units allows for the configuration of tailor-made drive systems. Image: NORD DRIVESYSTEMS

More heavy-duty applications
NORD also offers powerful and reliable drive systems for other heavy duty applications such as lifting hoists, positioning units and lifting tables as used with material handling of metals or paper, and in container storage systems.
For prospective customers, the industry experts from NORD DRIVESYSTEMS develop tailor-made drive solutions for cranes, depending on their individual requirements. They competently support with design, commissioning and service.
Meta title: NORD: Suitable drives for cranes
Meta description: NORD DRIVESYSTEMS offers tailor-made drive systems with precise positioning for all types of cranes.
Keywords: NORD, cranes, lifting gears, MAXXDRIVE, modular system
Deeplink:
https://www.nord.com/en/solutions/industries/cranes/cranes.jsp
Getriebebau NORD GmbH & Co. KG
Getriebebau-Nord-Straße 1
22941 Bargteheide/Hamburg
Germany
Niermann Jörg
Phone : +49 45 32 / 2 89 -0
Fax : +49 45 32 / 2 89 -22 53
Joerg.Niermann@nord.com