Prism software libraries operating on low-power embedded processors expand into high-performance target recognition and object tracking for ground ISR, air-to-ground, and counter-drone applications.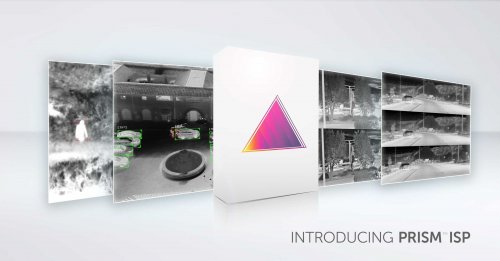 GOLETA, Calif. ― Teledyne FLIR, part of Teledyne Technologies Incorporated, today announced version 1.0 of its Prism™ ISP, a highly optimized image signal processing software development kit (SDK) for embedded systems designed to maximize performance in thermal and multispectral applications. Designed to run on low-power GPUs from Qualcomm and NVIDIA, Prism ISP includes image-enhancing functionality for:
• Noise reduction
• Super-resolution
• Electronic image stabilization
• Infrared (IR) and electro-optical (EO) video fusion
• Turbulence mitigation
• Locally adaptive tone mapping

The Prism ISP libraries enable integrators in the defense, commercial, and industrial markets to dramatically enhance imaging quality as part of artificial intelligence (AI) data capture at the edge, improving performance, lowering development costs, and shortening time to market. Developers, data scientists, and perception engineers can utilize Prism ISP with Teledyne FLIR market-leading thermal cores, including Boson®, Tau® 2, Hadron™, and Neutrino™®.
In addition to Prism ISP, Teledyne FLIR has also enhanced Prism AI. This powerful, efficient perception software enables classification, object detection, and object tracking in thermal and visible light spectrums. Prism AI now provides additional high-performance models trained on the world's largest application-specific thermal image datasets, including ground intelligence, surveillance, and reconnaissance (ISR), air-to-ground, and counter-drone applications, complementing the automotive software library announced last year.
"Prism ISP is critical to thermal-based AI system development, offering an unprecedented performance while reducing development costs," said Dan Walker, vice president, product management, Teledyne FLIR. "Within our end-to-end, computational imaging ecosystem featuring Prism AI, Teledyne FLIR can now support a wider array of projects and custom development that utilize low-power, embedded processors at the edge."
To learn more about Prism software, visit https://www.flir.com/prism
About Teledyne FLIR
Teledyne FLIR, a Teledyne Technologies company, is a world leader in intelligent sensing solutions for defense and industrial applications with approximately 4,000 employees worldwide. Founded in 1978, the company creates advanced technologies to help professionals make better, faster decisions that save lives and livelihoods. For more information, please visit www.teledyneflir.com or follow @flir.
About Teledyne Technologies
Teledyne Technologies is a leading provider of sophisticated digital imaging products and software, instrumentation, aerospace and defense electronics, and engineered systems. Teledyne's operations are primarily located in the United States, the United Kingdom, Canada, and Western and Northern Europe. For more information, visit Teledyne's website at www.teledyne.com.