Sewtec Automation, a market leader in bespoke automation for a wide range of industries, has developed an advanced inspection machine for PET bottles that relies on the high performance of Keyence camera sensors to deliver accurate and repeatable results in short cycle times.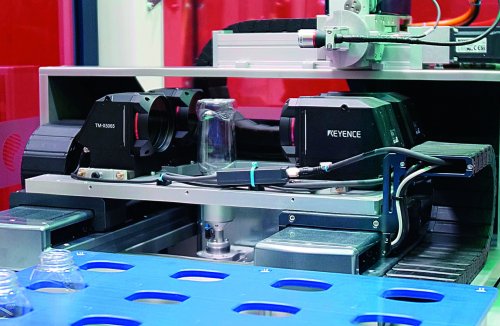 Sewtec Automation invents, designs, manufactures, installs and supports industrial automation systems worldwide. The company says it embraces and solves complex engineering challenges that others will not, or cannot, tackle. A case in point involves a recent project for a customer that supplies food processing companies with PET bottles.
"Our customer wanted an accurate inspection system for batch testing that could measure bottle profile and thickness, as well as perform a weight check and crush test," explains Sewtec's Head of Sales Andy Perks.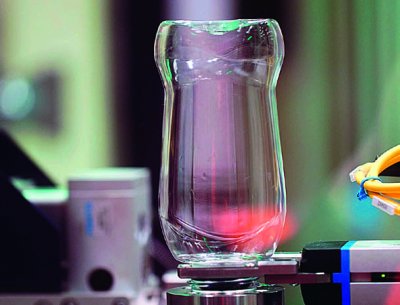 The machine created by Sewtec uses manually loaded fixtures carrying nests of bottles ready for inspection. An integral ABB six-axis robot arm and gripper automatically unload a bottle from the fixture, transferring it to the measurement station. Once in position, the measurement station lowers the bottle between a pair of Keyence TM-X5000 telecentric measurement cameras for profile measurement. The TM-X5000 system performs silhouette-based analysis for guaranteed accuracy, in this case measuring profile (height and width) to within 5µm. The specially designed telecentric optics improve measurement repeatability by increasing uniformity throughout the field of view. Compared with conventional optical systems, the TM-X5000 series offers about 100 times greater telecentricity (0.0001°).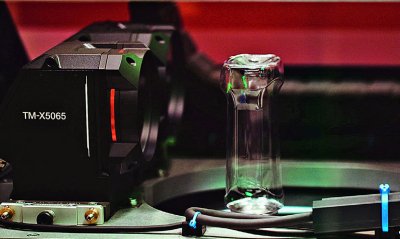 Sewtec integrated its TM-X5000 cameras to high-precision linear stages that move horizontally so the bottle sits equidistance between the two sensors. The measurement station rotates the bottle and moves it up and down between the Keyence cameras in a cycle time of around 20 seconds.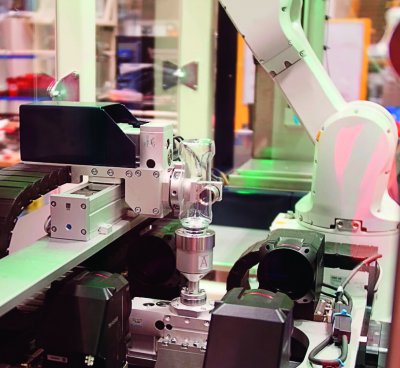 The TM-X5000 system is a dual telecentric optical system that negates any concerns about focussing or misalignment. Furthermore, a short exposure time of 25 µs, some 40 times faster than conventional models, achieves high-speed and blur-free measurement of targets as they rotate or pass. Distortion-free lenses and sub-pixel processing ensure a measurement position accuracy of ±0.2.m.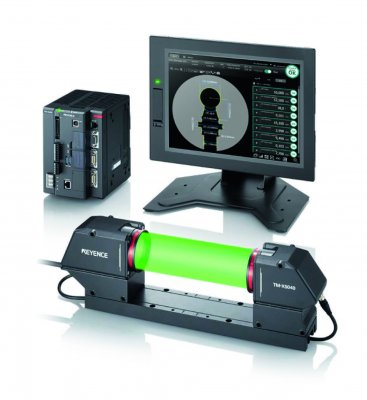 With profile inspection complete, the TM-X5000 cameras move away, allowing a horizontally mounted Keyence CL series confocal displacement sensor to approach and measure the bottle's wall thickness. Notably, the measurement station and sensor move in co-ordination to check thickness in six different bottle locations. The cycle time is around 5 seconds.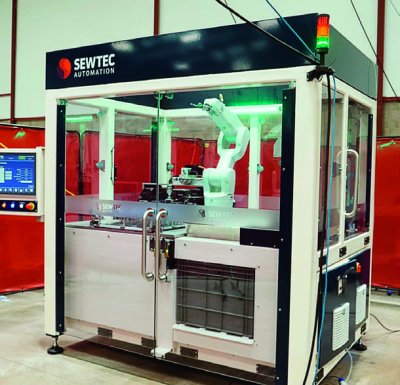 Keyence CL series confocal displacement sensors suffer no influence from heat or electrical noise as the lens is the only part located within the head. This configuration also delivers a tiny form factor that is 1/50th the size and half the weight of conventional systems.
"With so many technological advantages, there's huge potential for this bottle inspection machine," states Perks. "Any company moulding plastic bottles or containers in high volume likely has a requirement for batch inspection."
Among the reasons that Sewtec won the contract for the bottle inspection machine was the promise of open-source technology. The end user previously had a similar machine but could not get sufficient support.
"Changing a parameter would require paying for a password to gain machine access," explains Perks. "In contrast, our machine uses open-source control systems and off-the-shelf technologies. It's one of the reasons we use Keyence sensors. Unlike some camera companies and integrators, they don't lock end users out. Keyence have been our camera supplier of choice for many years."
KEY FIGURES
±0.2.m
Profile measurement position accuracy.
0.0001°
Around 100 times greater telecentricity.

25 µs
40 times faster exposure time.