Following a new report showing data centre outages remain a prominent operator concern, Aggreko is highlighting the need to adopt more flexible energy solutions to maintain site resilience and mitigate unavoidable grid issues.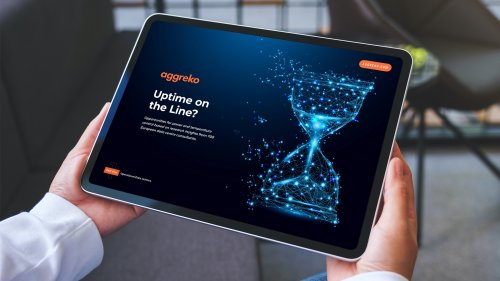 The company's comments come after the Uptime Institute's published its Global Data Center Survey Results 2023, in which 55% of operators stated they have experienced outages in the past three years. Given the need to safeguard facility uptime rates, Aggreko is emphasising the role decentralised energy solutions can play for operators looking to reduce reliance on under-strain national power grids.
"The latest global survey from the Uptime Institute does give reasons to be optimistic, as outage rates are declining," says Billy Durie, Global Sector Head – Data Centres at Aggreko. "However, 55% is still a very high figure for a sector where unplanned downtime is something that must be avoided at all costs.
"Yet to an extent, these figures are not surprising – factors outside the sector's control, including extreme weather conditions, supply chain degradation, strained national grid infrastructure and volatile energy pricing are threatening server halls more than ever before. If facilities are to maintain an uptime rate of 99.999%, new strategies will be needed for operators to manage the acute challenges posed by strained power infrastructure."
The company's latest two-part whitepaper, Uptime on the Line, published earlier this year, interviewed 700 centre professionals from the UK, Ireland, Germany, France, the Netherlands, Norway and Sweden on similar market pressures. The strains it identified have been echoed in the Uptime Institute's survey, which highlighted a lack of qualified staff, improving energy efficiency and procuring equipment to meet rising demand as prominent sector concerns.
"The fact these issues continue to endure following our own survey further emphasises why the industry needs to take a long-term view when it comes to mitigating ongoing pressures around supply chains, expert availability and power provision," Billy concludes. "Considering the obstacles posed by under-strain grid infrastructure, a paradigm shift is required when it comes to powering sites, with decentralised energy solutions offering a potential solution to ongoing concerns.
"However, integrating these technologies can pose unique challenges – including whether to opt for permanent or hired installations, and how they factor into data centre decarbonisation plans – that require supplier expertise and input. Given the uncertainty demonstrated in the Uptime Institute's latest survey, I would encourage data centre stakeholders to read the Uptime on the Line series and explore how dynamic equipment hire strategies can help address pressures facilities are currently facing."
For more information on Aggreko's latest data centre whitepaper, Uptime on the Line, click here.
*https://uptimeinstitute.com/resources/research-and-reports/uptime-institute-global-data-center-survey-results-2023

Aggreko
Owen Ed
Phone : –
Fax : –
aggreko@wpragency.co.uk
Aggreko
Reilly Joe
Phone : –
Fax : –
aggreko@wpragency.co.uk
Aggreko
Reilly Joe
Phone : –
Fax : –
aggreko@wpragency.co.uk
Aggreko
Reilly Joe
Phone : –
Fax : –
aggreko@wpragency.co.uk
Aggreko
Reilly Joe
Phone : –
Fax : –
aggreko@wpragency.co.uk
Aggreko
Reilly Joe
Phone : –
Fax : –
aggreko@wpragency.co.uk
Aggreko
Reilly Joe
Phone : –
Fax : –
aggreko@wpragency.co.uk
Aggreko
Reilly Joe
Phone : –
Fax : –
aggreko@wpragency.co.uk
Aggreko
Reilly Joe
Phone : –
Fax : –
aggreko@wpragency.co.uk
Aggreko
Reilly Joe
Phone : –
Fax : –
aggreko@wpragency.co.uk
Aggreko
Whittaker Nick
Phone : –
Fax : –
aggreko@wpragency.co.uk