With grid instability and energy security continuing to prove challenging to industry across Europe, a new report is highlighting solutions for high energy users to navigate a complex energy market and avoid downtime from grid resilience issues.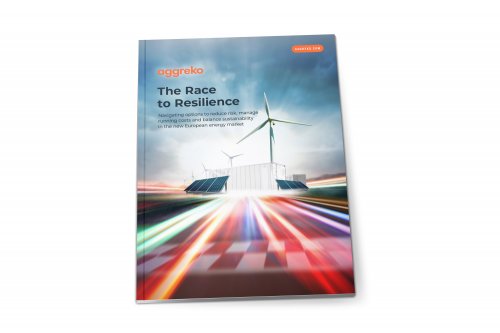 As rising costs resulting from Europe's energy crisis begin to settle, the report, titled Race to Resilience, indicates that ongoing energy instability means power supply remains a major concern for energy intense industries at risk of shortfalls.
According to Aggreko, high energy users across Europe are in a precarious position in terms of future energy supply and security, particularly as investment in capacity for renewables for the grid is increased. As the relief packages for businesses' energy bills across multiple European countries finish in 2024 and the EU's gas price cap agreement ends in February 2024 , concern is being raised that this will compound issues further.
From this, the report explores how facilities can secure enough power both now, and in the future, highlighting a revised approach to decentralised energy as the route capable of improving security of supply, reducing transmission losses and lowering carbon emissions.
Chris Rason, Managing Director, Aggreko Energy Services, comments: "The unpredictability of Europe's power network, combined with ongoing energy instability means wide-scale uptake of autonomous models has the potential to transform Europe's energy system. And while many high energy users have taken initial steps towards decentralised models, a revaluated approach to on-site power is crucial for industry to move forward – especially given the critical issues in play.
"Aggreko's Race to Resilience report therefore aims to bridge the gap between today's challenges of exponential energy demand and supply disruptions, with tomorrow's objectives of security and sustainability."
The report gives prominence to microgrids, gas-powered generators, combined heat and power, and energy storage as decentralised solutions able to deliver enhanced energy resilience and gives practical examples of these in action. One scenario was a 12MW industrial facility facing a planned shutdown of local power infrastructure. Here, Aggreko deployed a microgrid, using a diesel system alongside gas and battery solutions, to give the site a complete standalone solution.
To give decision-makers a starting point when identifying such models, the report also highlights a series of calculators developed by Aggreko – these include the Hire Vs Buy, Grid Compare, Data Centre Power Selector and Greener Upgrades calculators.
Chris concluded: "The development of new technologies has paved a way to resilience through a more autonomous, smarter and greener energy model. However, with upgrades through outright purchases proving difficult due to supply chain disruption and capex costs, bridging solutions offer a risk-free way to make this step and balance plant, profit and product.
"While volatile markets have always been difficult to navigate, the current state of energy instability, compounded by ailing grid infrastructures and pressure to reduce emissions has put high energy users at a key turning point. The solutions put forward in Aggreko's latest report therefore aim to light the path towards new energy models for Europe's biggest industries."
To download the free Race to Resilience report click here.
Aggreko
Owen Ed
Phone : –
Fax : –
aggreko@wpragency.co.uk
Aggreko
Reilly Joe
Phone : –
Fax : –
aggreko@wpragency.co.uk
Aggreko
Whittaker Nick
Phone : –
Fax : –
aggreko@wpragency.co.uk