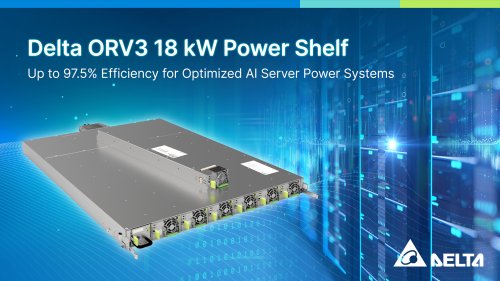 Delta, a global leader in power and thermal management solutions, announces the launch of its latest Open Rack version 3 (ORV3) 1 OU 18 kW power shelves at the OCP Global Summit in San Jose, California, USA. The high efficiency 6-slot-chassis power shelf is specifically designed to enable substantial energy savings in AI servers. It includes Delta's new 3kW power supply units (PSU), which boast over 97.5% peak efficiency, and can integrate the power management controller (PMC), with industry-leading PoE (Power over Ethernet) function, to enable smart power management in AI data centers.
Ares Chen, General Manager of Delta's Power and System Business Group, said, "As AI, 5G, automation, and other advanced technologies are becoming driving forces in the server market, more and more clients are adopting the third generation of Open Rack to meet higher power demands. We have embraced ORV3 standards and leveraged Delta's 50-year prowess in energy-efficient power solutions, to develop new power shelves that offer high scalability and efficiency for a wide range of applications, including hyper-scale data centers."
Delta's 18 kW power shelf conforms to the Open Rack Standard V 3.0 busbar definition to address higher power density needs. It provides 48 / 50 VDC output voltage rather than the traditional 12 VDC to reduce electricity distribution losses. The power shelf offers a maximum 18 kW power output or 15 kW with 5+1 redundancy which accommodates six 3 kW hot-pluggable power supply units. Each unit has a 150% load capability for 20 milliseconds to ensure protection from sudden current increases. The power shelf is scalable with extensive options of communication protocols such as PMBus over I2C and RS485 for secure monitoring and control.
Another highlight is the PMC with PoE function, which provides up to 1GbE Ethernet and allows PMC to work with the ORV3 power shelf for energy saving and optimal operational performance of data centers. In addition, both the power shelf and PMC can be customized in terms of hardware and firmware based on client demands to realize high energy efficiency for data centers.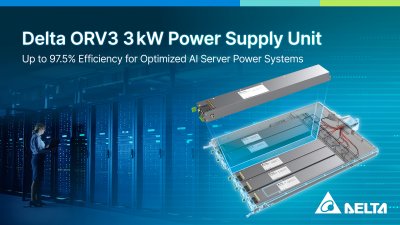 About Delta's Power and System Business Group (PSBG)
Since Delta started the mass production of switching power supplies in 1983, PSBG has been dedicated to the development of cutting-edge and energy-saving power products and systems to empower the innovation of cloud computing, network connectivity, client devices, industrial, medical, lighting, appliance, e-mobility, and other applications. Together with our global customers, Delta's PSBG will continue to develop next-generation power technologies to empower a smart and energy-efficient future.
About Delta
Delta, founded in 1971, is a global leader in switching power supplies and thermal management products with a thriving portfolio of smart energy-saving systems and solutions in the fields of industrial automation, building automation, telecom power, data center infrastructure, EV charging, renewable energy, energy storage and display, to nurture the development of smart manufacturing and sustainable cities. As a world-class corporate citizen guided by its mission statement, "To provide innovative, clean and energy-efficient solutions for a better tomorrow," Delta leverages its core competence in high-efficiency power electronics and its ESG-embedded business model to address key environmental issues, such as climate change. Delta serves customers through its sales offices, R&D centers and manufacturing facilities spread over close to 200 locations across 5 continents.
Throughout its history, Delta has received various global awards and recognition for its business achievements, innovative technologies and dedication to ESG. Since 2011, Delta has been listed on the DJSI World Index of Dow Jones Sustainability™ Indices for 12 consecutive years. In 2020 and 2022, Delta was also recognized by CDP with double A List for its substantial contribution to climate change and water security issues and named Supplier Engagement Leader for its development of a sustainable value chain for 6 consecutive years.
For detailed information about Delta, please visit: www.deltaww.com
DELTA ELECTRONICS NETHERLANDS BV
Zandsteen 15
2132 MZ Hoofddorp
The Netherlands
Wu Judy
Phone : +31 (0)20 655 09 06 / 31(0) 611-581-859
jwu@deltaww.com