Suitable for machine-room (MR) and machine-room-less (MRL) elevators.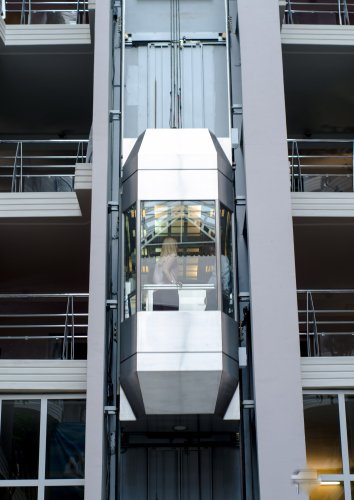 Delta, a global leader in power and thermal management technologies and a world-class provider of industrial automation solutions, is announcing a new generation of its elevator drives, the EB3000 family. The new drives are compact and easy installation while providing compatibility with a wide range of systems and communications protocols. Most importantly, the drives are designed with safety as the number one priority with built-in safe torque off (STO) and comply with EN81-20 and EN81-50. In addition, the new line of drives is even easier to maintain, and troubleshoot with wireless control via Bluetooth, while also ensuring a smooth and comfortable ride for passengers.
"Our new EB3000 drives are the answer to what elevator manufacturers have told us about their needs. The market is evolving, and a wider variety of buildings are incorporating elevators of different sizes and types," said Tim Lee, VP and GM, Delta Electronics Industrial Automation Business Group EMEA. "It's extremely difficult to find a high-end, closed loop drive option with this feature set anywhere else. We are happy to be able to provide this new line, of which both STO SIL3 and CANlift are already integrated, eliminating the need for two contactors and allowing integration with a broad range of motor types."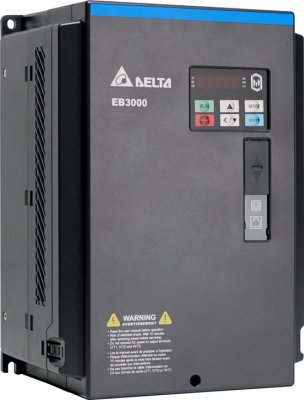 Delta EB3000
Compact and flexible
The face of the EB3000 chassis has more compact dimensions than an A4 sheet of paper. As a result, it easily fits all types of elevators and buildings including machine-room (MR) and machine-room-less (MRL) lifts, as well as low rises and high rises. It's also well-suited to both new buildings and retrofitting of existing structures. Available with integrated EMC filters, Delta's zero-contactor EB3000 drives also support the CANopen Lift CiA 417 specification for standardized communications across elevator components as well as Modbus as the serial link between the lift controller and drive. Many incremental encoders including several with absolute position are also supported, such as EnDat 2.2, SSI and BiSS-C.
Comfortable, safe, and efficient
Direct landing helps passengers get to their destinations faster without feeling creep during the elevator stops. Precise torque control offsets rollback for a smooth start. Both direct landing and torque control increase comfort to passengers. The STO (Safe Torque Off) is a safety function to prevent the motor from producing torque force unexpectedly. Trapping prevention prevents passengers from being trapped in the elevator when the encoder fails. Moreover, the new drives help users to lower TCO (total cost of ownership) by reducing contactors, reducing motor and EMC filter wiring, and mostly, integrate data logger to enhance repair efficiency.
Additional features
The EB3000 family can also connect to mobile devices via Bluetooth for wireless control. Auto-tuning, an external monitor, parameter adjustments, an oscilloscope, and a file manager are available. The included data logger supports 20 channels, 6 trigger modes, and 3 sampling times that users can preset variants and dig out any errors to reduce troubleshooting time.
The flexibility and wide array of features make the EB3000 series an attractive option for elevator manufacturers, allowing them to deliver comfortable, flexible and low TCO elevators. For more information, please refer to www.delta-emea.com/en-GB/products/Inverters-AC-Motor-Drives/EB3000-Series

Media Contact:
Monique Appeldoorn
Marketing & Communication Manager – Industrial Automation Business Group
Delta Electronics EMEA region
Tel: +31 (0)40-800-3880
Email: mappeldoorn@deltaww.com
About Delta
Delta, founded in 1971, is a global leader in switching power supplies and thermal management products with a thriving portfolio of smart energy-saving systems and solutions in the fields of industrial automation, building automation, telecom power, data center infrastructure, EV charging, renewable energy, energy storage and display, to nurture the development of smart manufacturing and sustainable cities. As a world-class corporate citizen guided by its mission statement, "To provide innovative, clean and energy-efficient solutions for a better tomorrow," Delta leverages its core competence in high-efficiency power electronics and its ESG-embedded business model to address key environmental issues, such as climate change. Delta serves customers through its sales offices, R&D centers and manufacturing facilities spread over close to 200 locations across 5 continents.
Throughout its history, Delta has received various global awards and recognition for its business achievements, innovative technologies and dedication to ESG. Since 2011, Delta has been listed on the DJSI World Index of Dow Jones Sustainability™ Indices for 12 consecutive years. In 2020 and 2022, Delta was also recognized by CDP with double A List for its substantial contribution to climate change and water security issues and named Supplier Engagement Leader for its development of a sustainable value chain for 6 consecutive years.
For detailed information about Delta, please visit: www.deltaww.com
DELTA ELECTRONICS NETHERLANDS BV
Zandsteen 15
2132 MZ Hoofddorp
The Netherlands
Wu Judy
Phone : +31 (0)20 655 09 06 / 31(0) 611-581-859
jwu@deltaww.com