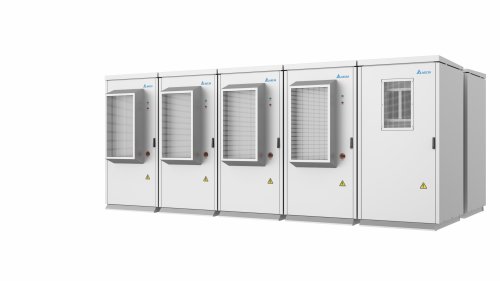 EVE_System_8 Cabinet_Frontleft
Delta, a global leader in power supply and energy management, has announced the launch of an outdoor LFP lithium-iron battery system specifically designed for megawatt (MW) level energy storage applications. This system addresses the urgent needs for grid ancillary services, solar plus storage, and backup power assurance. It can be configured with battery capacity according to actual project requirements, overcoming the challenges of fixed land space and inflexible configurations faced by 40-foot container-based systems, regardless of their capacity. The lithium-iron battery system is pre-assembled with battery modules, power, and control equipment. It complies with IEEE 693 seismic certification and IEC 60721-3-2 transportation standards, facilitating transportation by truck and eliminating the need for multiple shipments and on-site battery assembly, thereby reducing the risk of project delays due to weather conditions at outdoor construction sites.
Delta's Senior Director of Energy System Solutions Business Department, Paul Ai, stated, "As energy storage systems become increasingly familiar in the market, efficiency and safety are growing concerns for owners. The newly launched LFP lithium-iron battery system features compartmentalized design, fire-resistant casing, variable frequency energy-saving air conditioning, cooling systems, and sensors. It incorporates multi-layer safety protection and management, aligns with international safety regulations, and meets battery protection requirements, effectively reducing the risk of accidents. Thanks to our resource and capability in manufacturing, battery laboratories, energy storage integration testing platforms, and a 24-hour operations and maintenance command center, Delta understands the challenges and risks involved in MW-scale energy storage system deployment. This battery system not only addresses on-site installation issues but also enhances the overall system's safety, ensuring smooth operation from design and construction to maintenance."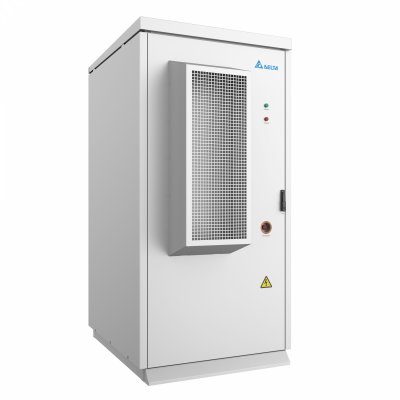 BATTERY_EVE2.5kW
Delta's LFP lithium-iron battery system offers the following features:
Cabinet Configuration based on Required Capacity, Efficient Land Utilization: The system allows for cabinet configuration according to the desired capacity, effectively utilizing land space. A single cabinet has a capacity of 315 kWh, and it can be expanded to a total of 5.67 MWh. This resolves the inflexibility issue faced by 40-foot container-based systems, where fixed land space is required regardless of the capacity.
Factory Pre-assembly and Container Transport, Saving on-site Operation Time: The battery system is pre-assembled within the cabinets, including battery modules, auxiliary power, controllers, and communication interfaces. It undergoes testing before leaving the factory, significantly reducing on-site installation time. It eliminates delays caused by factors like inability to open cabinets due to rain or oversight during nighttime construction.
Compliance with International Safety Standards, Battery Protection Mechanisms, Reduced Accidental Risks: Delta's energy storage systems adhere to comprehensive safety measures, ensuring protection at the cell, battery, and system levels. The exclusive battery management system monitors the voltage and operating status of individual cells and modules, balancing battery usage and improving overall system reliability and lifespan.
Delta's LFP lithium-iron battery system has obtained IEC 62619 certification and successfully completed UL 9540A testing. It was launched in the second quarter of 2023. To obtain further information about Delta's cabinet-based lithium-iron battery system, please contact Delta directly or visiting https://www.deltaww.com/en-US/products/Energy-Storage-Systems/LFP-Battery-System
Media Contacts:
Xiaojie Liu
Marketing Manager
Delta EMEA
Tel: +31 (0)20-8003-923
E-mail: xiaojie.pd.liu@deltaww.com
About Delta
Delta, founded in 1971, is a global leader in switching power supplies and thermal management products with a thriving portfolio of smart energy-saving systems and solutions in the fields of industrial automation, building automation, telecom power, data center infrastructure, EV charging, renewable energy, energy storage and display, to nurture the development of smart manufacturing and sustainable cities. As a world-class corporate citizen guided by its mission statement, "To provide innovative, clean and energy-efficient solutions for a better tomorrow," Delta leverages its core competence in high-efficiency power electronics and its ESG-embedded business model to address key environmental issues, such as climate change. Delta serves customers through its sales offices, R&D centers and manufacturing facilities spread over close to 200 locations across 5 continents.
Throughout its history, Delta has received various global awards and recognition for its business achievements, innovative technologies and dedication to ESG. Since 2011, Delta has been listed on the DJSI World Index of Dow Jones Sustainability™ Indices for 12 consecutive years. In 2022, Delta was also recognized by CDP with leadership level ratings for its substantial contribution to climate change and water security issues and named Supplier Engagement Leader for its continuous development of a sustainable value chain for the 3rd consecutive year.
For detailed information about Delta, please visit: www.delta-emea.com
DELTA ELECTRONICS NETHERLANDS BV
Zandsteen 15
2132 MZ Hoofddorp
The Netherlands
Wu Judy
Phone : +31 (0)20 655 09 06 / 31(0) 611-581-859
jwu@deltaww.com