CoreTigo is set to exhibit its array of advanced industrial wireless automation solutions at a broad range of locations throughout the SPS 2023 show floor in Nuremberg, Germany. CoreTigo's solutions cater to the needs of various markets and applications, including adaptive packaging machinery, smart logistics and sorting solutions, intelligent tooling and robotics, condition monitoring & IIOT, and more.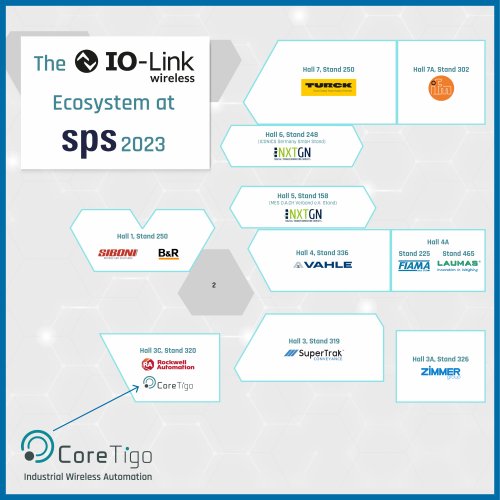 CoreTigo will be demonstrating its solutions at Hall 3C, Stand 320, as part of the Rockwell Automation booth. CoreTigo's technology enhances Rockwell Automation's solutions, such as Independent Cart Technology smart conveying systems, by increasing flexibility and capacity while reducing complexity and maintenance. Given this collaboration, CoreTigo was recently awarded Rockwell Automation Technology Partner of the Year 2023 EMEA.
CoreTigo will also be present throughout the expo in a variety of IO-Link Wireless ecosystem partners' booths, demonstrating its innovative joint solutions:
• VAHLE Group will demonstrate how their inductive contactless power supply (CPS) solution, combined with CoreTigo's industrial-grade wireless connectivity enables the Contactless & Wireless adaptive machine, capable of controlling actuators in real-time, while in constant motion. These are integrated into Rockwell Automation's iTrak system at Hall 4, Booth 336.
• Zimmer Group will showcase at Hall 3A Booth 326 its high-end grippers, for various applications, connected and controlled via IO-Link Wireless. Zimmer Group's grippers, along with VAHLE's inductive power solutions and CoreTigo's connectivity were recently highlighted in Rotzinger PharmaPack's ultimate packaging machine, which can be viewed in this video: https://youtu.be/HSshEGywV4A
• SuperTrak CONVEYANCE's smart conveying system will also be featuring the Contactless & Wireless combination which increases both machine flexibility and speed. Visitors can find it in Hall 3, Booth 319.
• Siboni will be featuring their IO-Link Wireless integrated servo motors, mounted on B&R's ACOPOStrak transport system, demonstrating additional capabilities of wireless in-motion control. This solution will be displayed at the Siboni booth – Hall 1, Booth 250.
• Laumas, in addition to having its technology integrated into the above B&R ACOPOStrak transport system, will be showcasing a portfolio of industrial weighing devices integrated with CoreTigo's IO-Link Wireless technology at Hall 4A, booth 465.
• NXTGN will exhibit its portfolio of Sensor to Cloud Gateways, combining IO-Link Wireless on the sensor side and Cellular communication to the Cloud. These smart devices, used for various applications, will be shown at Hall 5, Booth 158, and Hall 6, Booth 248.
• ifm will feature their IO-Link-based products, wirelessly connected by CoreTigo's IO-Link Wireless solutions, at Hall 7A, Booth 302. The two companies' cooperation continues that of last year's, where they jointly demonstrated at the booth of ctrlX World Ecosystem, in which both are members.
• Turck will exhibit their comprehensive portfolio of IO-Link solutions and reveal its new IO-Link Wireless connectivity solution, enabled by CoreTigo's products and technology at Hall 7, Booth 250.
• Fiama will display its array of mechanical, electrical, and electro-mechanical measurement and control instrumentation devices empowered by CoreTigo's IO-Link Wireless connectivity at Hall 4A, Booth 225.
CoreTigo welcomes visitors to schedule a personal meeting with CoreTigo's Director of Sales DACH, Franz Josef Utz, and additional team members at coretigo.com/sps-2023-smart-production-solutions/, as well as receive a free ticket to the event.
About IO-Link Wireless
IO-Link Wireless is a deterministic, low latency (5 msec) and low synchronization rates (10's of micro seconds), highly-reliable and scalable universal wireless communication protocol. Based on the IO-Link IEC 61131-9 standard, it is designed specifically for factory automation, coexisting with other networks – both wired and wireless.
About CoreTigo
CoreTigo enables faster and more flexible manufacturing by providing high-performance machine digitalization, wireless connectivity and edge solutions for machine builders, system integrators and industrial equipment manufacturers. CoreTigo's products enable the design and retrofit of machines and production lines that were not possible before. These solutions increase flexibility, adaptivity and modularity, resulting in cost effectiveness, increased productivity and downtime reduction. Embraced by industrial leaders, CoreTigo's solutions are based on the IO-Link Wireless global standard, which is fit for harsh factory environments and motion control applications, providing the most reliable wireless connectivity for millions of sensors, actuators and industrial devices worldwide.