CoreTigo's enhanced wireless communication drives flexibility, agility and operational excellence.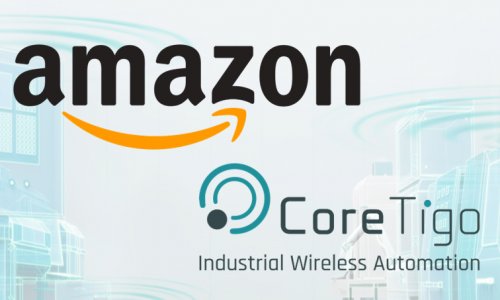 CoreTigo, an industrial wireless automation solution provider, announced today that Amazon has joined their Series B1 round of fundraising. Amazon's Industrial Innovation Fund investment brings CoreTigo's Series B1 round to a total of $18M and joins CoreTigo's strategic investors, including, Emerson Ventures, Qualcomm Ventures LLC, and Verizon Ventures, among others.
"We're thrilled to have Amazon as an investor," says Eran Zigman, CoreTigo's CEO. "Amazon and CoreTigo share a vision of seamless reliable connectivity, and Amazon's investment is the next step in advancing our mission to create game-changing solutions for the entire space."
"Amazon continues to accelerate robotics deployment across our operations, and we see first-hand the need for more seamless, reliable, and scalable communications for industrial machinery," said Matt Peterson, Director of the Amazon Industrial Innovation Fund. "With CoreTigo's solutions, machine builders and manufacturers are able to eliminate wired communication constraints and enable their equipment to be much more flexible and adaptive across a number of different environments."
CoreTigo's solutions address challenges in a variety of industries. In logistics specifically, CoreTigo's wireless technology enables connection across robots, smart conveyance and sorting systems, machine tooling, and other rotating units. This yields numerous benefits, such as adaptive machine designs that can support a large variety of products and reduce energy consumption, maintenance, and footprint in a cost-effective manner. As an example, wireless connectivity in conveying and sorting systems allows for performing tasks during high-speed motion, effectively minimizing complexity and enhancing the handling flexibility and speed of transported items. In robotics, eliminating the cables and dresspacks increases the maneuverability as well as reducing maintenance operations. In addition, CoreTigo's Industrial IOT, machine optimization, and data collection solutions facilitate accessibility even in demanding environments. This empowers businesses with valuable insights to enhance operational excellence and improve overall efficiency.
CoreTigo shares Amazon's vision of a future of manufacturing and logistics systems that are highly flexible and capable of responding quickly to changing market demands, customer needs, and supply chain innovation. The goal is to create an agile, resilient, and adaptive industrial space by connecting people, devices, and machines.
To learn more about the various solutions enabled by CoreTigo's technology and the benefits deriving from them visit: https://www.coretigo.com/solutions/
About CoreTigo
CoreTigo enables faster and more flexible manufacturing by providing high-performance machine digitalization, wireless connectivity and edge solutions for machine builders, system integrators and industrial equipment manufacturers. CoreTigo's products enable the design and retrofit of machines and production lines that were not possible before. These solutions increase flexibility, adaptivity and modularity, resulting in cost effectiveness, increased productivity and downtime reduction. Embraced by industrial leaders, CoreTigo's solutions are based on the IO-Link Wireless global standard, which is fit for harsh factory environments and motion control applications, providing the most reliable wireless connectivity for millions of sensors, actuators and industrial devices worldwide.
Marketing Manager
Glas Roy
Phone : +972-52-8536663
rglas@coretigo.com