Leuze introduces new tower lights in robust aluminum housing onto the market: The TL 305 series impresses with bright and homogeneous illumination as well as an optional IO-Link interface.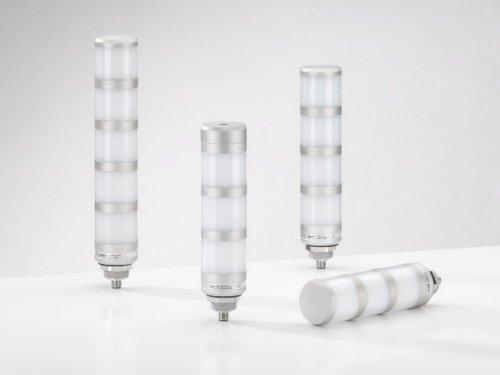 Tower lights are indispensable in machine and system construction as well as in intralogistics: They make states, faults, and ongoing processes clearly visible from a distance. The new Leuze tower lights of the TL 305 series can do all of this extremely reliably. They light up brightly, uniformly, and fully. This enables optimum signaling – whether at the machine, on the conveyor belt, or for access control. The compact towers are available preconfigured with three, four, or five segments. The new range of tower lights includes the TL 305 models with a predefined color assignment as well as the TL 305-IOL models with an IO-Link interface. The IO-Link variants allow different operating modes and provide an extensive selection of colors. On request, the tower lights are also available with an additional acoustic signaler.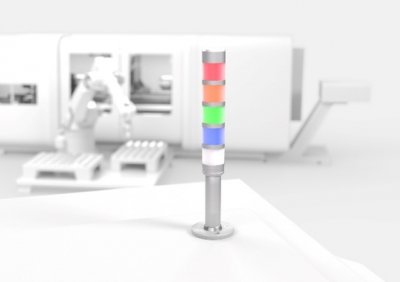 The individually configurable TL 305-IOL tower lights can be parameterized extremely flexibly via the IO-Link interface. System operators can signal individual machine states by means of different brightnesses, lighting sequences, colors or types of signal sound.
Quick and easy implementation
System operators benefit from the immediate usability of the tower lights. The M30 thread and M12 connectors make them easy to install. Matching accessories simplify installation. All models of the series are characterized by a highquality and robust design. The aluminum housing allows the tower lights to be used even in demanding industrial environments.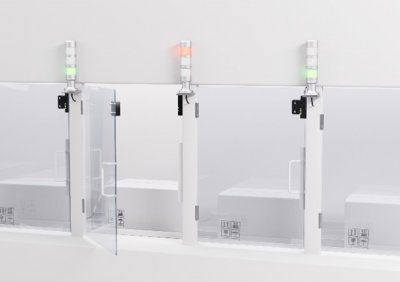 The TL 305 tower lights used in combination with a proximity sensor are also suitable for safety-related monitoring tasks. For example, if a door is opened, a visual and/or acoustic warning is output.
Flexible configuration
The IO-Link version TL 305-IOL with its different operating modes offers maximum flexibility. Segment mode enables the segments to be actuated individually via IO-Link. This allows color, intensity, and lighting sequences to be configured individually. Level mode is used to visualize fill levels. If fast commissioning is required, users can actuate eight predetermined or user-defined configurations via the three external trigger inputs even without an IO-Link connection.
Leuze France SARL
ZI Nord de Torcy – Rue des Tanneurs
BP62 – Bâtiment 3
77202 Marne la Vallée CEDEX1
France
Suopyte Solveiga
Phone : +33 (1) 60 05 12 20
Fax : +33 (1) 60 05 03 65
Solveiga.Suopyte@leuze.com