All ESG goals have passed verification, including the implementation of zero-waste upholstery and the promotion of green transformation plans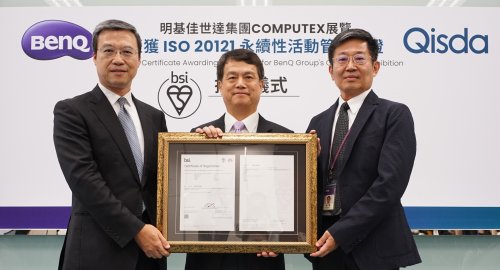 BenQ Group, a global leader of smart solutions, has announced that it was the only participating manufacturer at COMPUTEX Taipei 2023 to have obtained international ISO sustainability certification with its green booth. In compliance with the international standard ISO20121 Sustainability Event Management, 15 goals in BenQ Group's three environmental, social, governance (ESG) domains have passed verification with a 100% rating.
The "ISO20121 Sustainability Event Management" was first adopted by the London Olympics in 2012 to provide a global management standard for event sustainability, and assistance in event management and execution, with sustainability as the primary consideration. BenQ Group is committed to expanding performance, establishing energy efficiency, and alleviating the negative environmental and social impacts.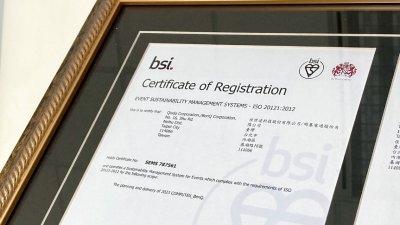 "COMPUTEX is the world's premier technology exhibition," says President Joe Huang of the BenQ Group. "We were committed to assisting clients in green sustainability transformation and implementing sustainable practices locally during the exhibition. Our gratitude is extended toward 30 clients, suppliers, and affiliated company partners for their participation in the sustainability initiatives and displays. I look forward to us continuing to exert a sustainable influence in the future and creating a green value chain together."
All 15 sustainable goals in the three ESG domains passed verification
COMPUTEX Taipei is a crucial avenue for businesses to expand their opportunities and understand market dynamics. Exhibition decorations and event maintenance usually involve the use of single-use building materials and dining utensils for appearance, convenience, and speed of construction, resulting in a substantial amount of event waste. BenQ Group has established 15 green, sustainable goals in its three ESG domains, all of which have been attained and verified by an impartial third party.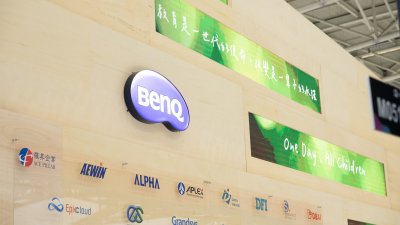 Regarding environmental considerations, BenQ Group requests that the exhibition venue adhere strictly to the 3R principles of reduce, reuse, recycle. Simple green building materials with long-lasting vitality were used to construct a sustainable booth with zero-waste upholstery. The BenQ Group booth also used 100% recycled dining utensils and staff used their own green cups, while Chingpiao recycled cups were provided for visitors to drink tea. What's more, customers could complete an online satisfaction survey, interact with a robot, and download digital versions of printed materials, of which 90% were available online and not printed out this year.
Regarding the social aspect, BenQ Group endeavors to promote a sustainable mindset and implement green transformation plans, integrating the group's grand fleet that spans 22 partners and clients, especially Formosa Chang and Tea Top, to display nearly 100 products and services together. More than 50% are related to promoting green transformation plans, such as enterprise cloudification, carbon inventory, energy consumption reduction, and decision-making accuracy improvement to reduce resource waste. In collaboration with Teach For Taiwan, the digital gap in education has also been addressed, along with promoting digital education popularization, and modernizing rural education. Booth visitors were asked to rate the sustainability advocacy at the exhibition venue and the satisfaction level reached 4.82 out of 5 points. This demonstrates the visitors' identification of sustainable design.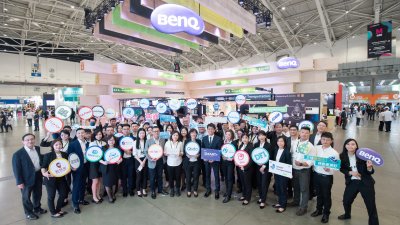 On the governance side, green procurement and economic value objectives have been established, while green and low-carbon procedures have been facilitated, and direct economic benefits have been actively created. Throughout the booth, online and offline connections, as well as client influence, were strengthened, and all objectives were met. BenQ Group manufactures 100% recycled dining utensils, 80% domestically produced green building materials, and 70% locally manufactured high-quality gifts. It also collaborated with Tea Top, a well-known Taiwanese tea beverage store, to ensure that all guests can enjoy the superior flavor of Taiwanese teas.
30 Sustainable Partners Collaborate to Create a Green Miracle by Integrating Smart Business Opportunities
BenQ Group continues to implement the truth, goodness, and beauty of technological life in accordance with its long-term vision. Conventions, which are committed to innovative technology and the implementation of green sustainability, are not only business activities but also platforms for ESG. This time around, the company has integrated savvy business opportunities and co-created a green miracle with its thirty sustainable partners.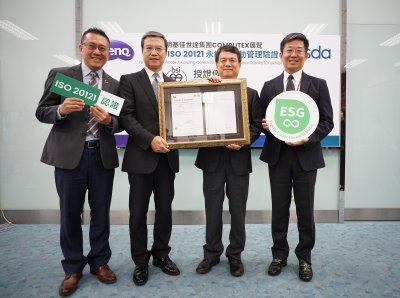 The BenQ Group companies that participated at COMPUTEX Taipei 2023 include: BenQ, Qisda, ACE PILLAR, AEWIN Technologies, Alpha Networks, APLEX Technology, DATA IMAGE, DFI, DSIGroup, D8ai, Epic Cloud, Epoint Systems, Grandsys, Hitron Technologies, Interactive Digital Technologies(IDT), LaFresh, Mace Digital, MetaAge, MetaGuru, Partner Tech, PowerWalker, and WEBEST Solution.
In addition, BenQ Group has also jointly cooperated with clients, suppliers and other sustainable partners including: Formosa Chang, Tea Top, Teach For Taiwan, KY-Post Design, Cunext, Chingpiao, and Unity Sustainability Services. The sustainable influence of companies has been exerted in collaborative efforts, continuing to simmer in the hearts of participants and co-create a vision for sustainability.
Mepax Media Contact
Gordon Lucy
Phone : +44 (0) 203 4882 465
Fax : –
l.gordon@mepax.com
BenQ Media Contact
Chen Yalan
Phone : (03)359-5000#7688
Yalan.Y.Chen@BenQ.com