Global temporary power company Aggreko has re-affirmed its support for greener practice with the launch of a new emissions calculator. The tool allows users to see real-world percentage reductions in emissions and fuel consumption that can be made by switching a Greener Upgrade™.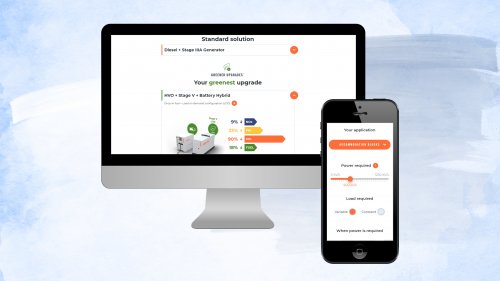 Recent industry trends have indicated an urgent need for greener power generation. For instance, as part of its Green Deal Industrial Plan, the EU's Net-Zero Industry Act 2023 puts green technologies as central to industry moving forward. With the cost of energy also compounding the need for more efficient practice, Aggreko has launched a new emissions calculator, accessible through the company's website, in order to allow operators to identify greener alternatives to their organisation's current method of power generation.
The calculator uses information based on the unique energy demands of each site to determine potential savings in carbon dioxide, nitrous oxides, particulate matter and fuel consumption.
Matt Watson, European Manufacturing Sector Export at Aggreko Europe said: "With sustainability legislation becoming ever-tighter, the government has called upon all sectors to play their part in transitioning to green energy.
Unstable energy pricing also means operators are beginning to recognise the benefits of adopting more efficient solutions. "However, processes within this sector can prove particularly energy-intensive, so finding an effective substitute for current power generation techniques can often be challenging. It is for this very reason that we've launched our new emissions calculator, allowing operators to easily identify a greener solution based on the energy demands of their site."
The calculator has been developed from Aggreko's extensive experience supplying decentralised energy solutions to industry, with special consideration paid to sector-specific applications for manufacturing, construction, data centres and petrochemicals.
The tool forms part of Aggreko's wider Greener Upgrades initiative and follows the introduction of a number of more sustainable technologies to the company's fleet. This includes solutions such as ultra-low emission Stage V generators and battery energy storage systems (BESS), as well as using hydrotreated vegetable oil (HVO) as a drop-in fuel. Matt concluded: "The UK's green transition will only be able to take place through a series of incremental changes.
Even by just switching to a smaller generator that does not exceed the needs of the site operators can achieve an immediate reduction in carbon emissions. "Making minor switches such as these in the short term can deliver exponential returns in the long run, so we strongly encourage manufacturing operators to explore what alternatives are out there, as you might just be surprised at the efficiency gains this can deliver too."
To access Aggreko's emissions calculator, CLICK HERE.
Aggreko
Owen Ed
Phone : –
Fax : –
aggreko@wpragency.co.uk
Aggreko
Reilly Joe
Phone : –
Fax : –
aggreko@wpragency.co.uk
Aggreko
Whittaker Nick
Phone : –
Fax : –
aggreko@wpragency.co.uk